Miramichi Angling Reports 2000
By Hook or By Crook?
What you need to consider about the future of Miramichi angling
---
November 23, 2000
| | |
| --- | --- |
| | |
| Porter Brook - October 21, 2000 | Juniper Counting Fence - October 31, 2000 |
Much has been happening this fall since the salmon angling season closed on October 15. With almost three weeks of persistent drizzle, the weather has been a little bleak to say the least, but after another very successful spawning, the future of the Miramichi salmon looks much brighter than the sky.
As the photo indicates, we had the privilege of witnessing the fall ritual of salmon making their way up Porter Brook once again and the number of fish observed was very significant. On a sad note, however, the normally pristine water of this important spawning habitat was seriously defiled with mud and debris, due to forestry operations taking place upstream. After several days and numerous complaints, the problem was finally solved, but it does serve to illustrate the importance of the angler's constant vigilance on the stream. (more)
The most exceptional report of spawning success comes from Merlin Palmer at Burnt Hill, where a newly - installed counting fence enabled him to observe 374 adult salmon in a single day as they made their way up the brook. This is in stark contrast to the "River Reports" which appeared in the Autumn issue of the Atlantic Salmon Journal, wherein it was stated that the Burnt Hill facility had counted only 3 salmon by the end of June.
A few days ago, Jim Swazey phoned to tell me that in a 1 hour period from 7:15 AM - 8:15 AM on November 14, he and his neighbour observed over 100 jumping salmon in the Miramichi in front of his home near Boiestown, including several occasions where 3 were in the air at once. Perhaps they were jumping in celebration of having completed another successful cycle of procreation, and unlike their west coast cousins, having lived to tell the tale.
The slush in the river this morning reminds us once again that the Miramichi will soon close its eyes for another long hibernation while those who would claim to understand it best spend the winter wrangling over its future.
A river as productive as the Miramichi is bound to have many who are anxious to take full credit for its success, but despite their vanity, let us never forget that our gratitude rightfully belongs to a much higher level of providential authority and let us not neglect to express that gratitude in an appropriate manner.

---

Oct. 4, 2000
Although we are now at the stage where we would welcome some precipitation, we certainly hope that it won't come in the same form it did on this date last year! The clouds have been gathering through the afternoon today and we are optimistic that we will see some rain tomorrow, although how much is still unknown.
After a very healthy raise 10 days ago, the river has been dropping gradually and both the Main Southwest and the Cains could use a good bump of water to re-invigorate the salmon.
Although the water temperatures have remained very cool, we have had a few summer-like days recently which has made for some very pleasant fishing weather. There seems to be widespread agreement that the quantity of fish in the river is very good, with lots of large (25 - 35 lb) fish being seen. The general frustration is that they are not very responsive, although several anglers have experienced some pleasant exceptions to that rule, with several large salmon having been hooked and released lately. However, as most fishermen are aware, Miramichi salmon have a very sophisticated palate and are not always willing to fall for just anything.
We hear from Quarryville that there are excellent quantities of large salmon being observed and encountered in that area and, given the time of year, it is a safe assumption that the "urge to merge" will compel them to move before long, either with without a fresh rainfall. Nonetheless, we are hopeful that with a little raise of water, they might also feel more inclined to merge with the occasional salmon fly while en route to their spawning grounds.

---
Sept. 26, 2000
(Click on graph for larger image)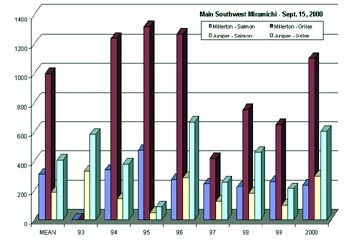 After dropping quite quickly toward the end of last week, we are happy to report that the river is up nicely once again, thanks to a blessed rainfall which we received Saturday evening and Sunday morning. Most areas reported about 1.5 - 2" of rain which has brought the river up by a foot or better. It has now crested and as of this afternoon, was looking very fishable indeed.
The fishing reports have been generally quite good over the past couple of days as small schools of salmon move from one pool to another. While many of the fish are dark, indicating that they have been in fresh water for a while, there are some good reports of bright fish being seen as well. The news from the lower part of the river seems to indicate that there are lots of fish coming into the system, although the water is still a few inches too high for the down river pools to be as productive.
Overall, while not everyone is catching as many fish as they would like, there seems to be a good level of contentment with the numbers of fish in the system, and rightly so. As we have said in the past, if a salmon fisherman can't be content on the banks of the Miramichi, then perhaps he is not really a salmon fisherman at all.
---

Sept. 18, 2000
| | |
| --- | --- |
| | |
| September 15 (a few hours before the rain) | September 18 (3 days after the rain) |
We are pleased to report that we have received some badly needed rain over the week-end which has had a great effect on the river. In the Blackville area, the raise was a little over a foot while further up-river, the general consensus seems to be that the water came up about 8 - 10 inches. The Cains river has also come up very nicely and should be in good shape for its fall run of fish.
In any event, the rain has stimulated the fish which were already in the river and has encouraged a very good number of new fish to enter the system over the past few days. We have heard good reports of fresh fish with sea lice on them as far up as Boiestown. Many anglers seem very satisfied with the number of fish they are seeing but some are finding it hard to persuade the salmon to respond to their flies. If only we had the right patterns.........

---

Sept. 9, 2000
(Click on graph for larger image)
As the autumn light begins to filter through the trees and the first blush of fall foliage adorns the maples, the Miramichi is once again tugging at the hearts of anglers and salmon alike, drawing both to its waters with an irresistible force that only they can understand. This promises to be a great finish to an exceptional year of fishing on this river, but admittedly, the first few days of September have been less than spectacular.
With no significant rainfall in the past couple of weeks, the river has been dropping slowly but steadily. Mercifully it is not nearly as low as it was during early September last year, but it is still down from its July and August levels. However, due to some chilly days and frosty nights, the temperature has remained cool and fish have been moving through many pools. In the Doaktown area we have not seen any large numbers of new fish yet, but that may change before long. We have just received word of some good quantities of fresh fish entering the river in the Quarryvile area, including quite a few bright grilse. There are also some new fish entering the Renous and some learned speculation that some of the fish entering the Miramichi may be bound for Cains River. Within the next week or two, we should expect to see even greater numbers of new fish arriving as the fall run begins to manifest itself more substantially.
In the meantime, we are still picking up some encouraging local news as well . One Doaktown area lodge reported 13 fish hooked on Wednesday with one of their guests, who was celebrating his birthday, starting the day with a 15 lb. salmon and releasing three more before the day was done. Its hard to imaging a better birthday celebration than that, and what better place to do it than on the banks of the Miramichi.

---
August 31, 2000
After warmer and dryer weather over the week end, the river is down a little from what it was a week ago, but it is still in excellent shape for fishing. Many would say that the water level and temperature is ideal for most pools, thanks to some cool nights and temperate days. Heavy showers last evening have brought the river up very slightly this morning but the raise is not expected to be significant. We are still hearing solid reports of good numbers of fresh fish coming into the system and people are seeing fish moving through most pools on the Main Southwest. All in all, this looks like an ideal time to sneak ahead of the fall rush and get a little time in on the river while you still can.

---

August 25, 2000
We are continuing to hear very good reports about the fishing from a wide variety of sources. Most notably, there are many new fish being seen and caught in the lower part of the river from Blackville to Quarryville. Dennis Rice of Amawalk NY reported to us yesterday that he had released three grilse and a salmon on Thursday evening while fishing at Black Rapids Lodge. He also released two fish Friday morning. In total, he reported eleven fish caught in camp on Thursday. Further upstream, guests at a lodge near the mouth of the Cains river landed 50 fish this week, with a very large salmon being landed by one guest. At this time the size is unknown. In the Blissfield area, we have also had reports of very good fishing, with many large fresh grilse moving through the pools.
As for our water conditions, we have been blessed with a good deal more rain, with many areas having close to 2 inches over last weekend and some heavy showers in the middle of the this past week. This has brought the water up once again to a level which is great news for many pools, but perhaps a little higher than what might be ideal for some others. All in all, the Miramichi has performed magnificently over the past two months, and as we draw nearer to the fall season, there is every reason to believe that she will continue to produce some great fishing.
---
August 16, 2000
The past few days have brought a number of mixed reports, which makes it a little difficult to come up with a blanket assessment of the river right now. We have a lot of overcast weather and several showers last week and that brought the water up a bit for a few days. Even though it is back down again, it is still much higher than at this time last year, as evidenced by this photo taken on August 14.
While the past couple of days have been quieter. last week end, we heard some encouraging reports from the Blissfield area where one camp landed 14 fish in a 3-day period. A couple of friends also reported some exceptionally good fishing on the Renous with a man and his son hooking 18 fish over the week-end. The best news we have heard recently comes from Quarryville where our sources have confirmed that a good number of new fish are entering the system on each new tide. Further up, we have also heard reports of good numbers of fish below Blackville. With cooler weather in the forecast for tonight, we could expect to see these fish move up into the system further, which should make for another entertaining week end.

---
August 4, 2000

After the spectacular fishing many people experienced in July, the events of the last week seem to pale in comparison. However, when considered against the back drop of last summer's fishing conditions, we have had what might still be termed a pretty good week of fishing. Without any significant rainfall over the past week, our water has dropped a little but many pools are actually at a better height for fishing than they were during the high water in July. With the exception of last evening which was warm and humid, our nights have been cooler and this has helped offset the warm days and has kept the river at a fishable temperature, although it is a little warmer than during July.
As a result, many of the cold water pools are reporting very good quantities of fish holding in some deeper, cooler water. In some cases this has actually made for better fishing conditions, as fish are now more inclined to rest occasionally, during which time they might be willing to consider an angler's offering.
As I was facing up - river to take this picture this morning, one such fish responded to an angler (Dan Pipes) directly across from me who is seen here playing a nice grilse. When the fish was brought to net, he turned and shouted across the river "Its a great day to be alive". Its funny how often you hear that on the banks of the Miramichi

---
July 26, 2000

The fishing continues to be unusually good on the Miramichi, and after a vigorous rainfall on Saturday, the water remains significantly higher than normal. By all reports, this past Saturday and Sunday produced some of the best grilse fishing we have seen thus far. As schools of fish continue to move through the various pools, it has not been unusual to see several people with fish on at the same time. However, it is equally possible to spend a day or two on the river and not be in the right place at the right time, which is part of what continues to make salmon fishing so challenging.
Over the past couple of days, the air temperature has been warmer which has also warmed the water a little, thus slowing the fish down a bit. However, we have been blessed with some cool nights so the early morning fishing has held up well. Hopefully the favorable conditions will continue and if they do, we have reason to believe that we still have some great fishing ahead.

---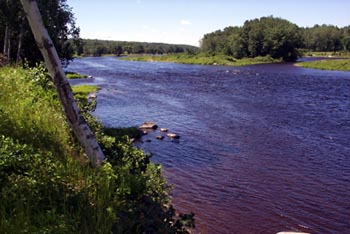 July 21, 2000
Another great week has come and gone on the Miramichi. Last week end brought us some slightly warmer weather and for a couple of days, the number of new fish entering the system slowed a little. Nonetheless, fishing continued to be very good in the Doaktown area and above, with some pools yielding more than a dozen fish per day. Some anglers have reported hooking 5 - 6 fish per day when they happened to be in the right place at the right time, while other anglers have found success to be more elusive. Because of the high water, some normally productive pools are not doing so well but other pools are producing uncommonly good fishing. Many anglers have reported that the fish don't seem to be holding up much but are steadily making their way upstream.
Last Tuesday evening we had some severe thunder storm activity which brought heavy rain, raising the river once again and cooling the water even more. After a couple of days the water remains comfortably high and very cool (low 60's), which once again makes it ideal for fishing. We are told that there were a lot of fish showing at Quarryville on Thursday, but not many taking. However, this morning there were just as many new fish showing and today they apparently felt like taking, with 15 being caught before lunch.
All in all, this continues to be a very impressive July, largely due to great water conditions and a healthy run of both salmon and grilse. If present trends continue, we could possibly have some very good August fishing as well. All in all, you won't find a better time to spend a few days on the Miramichi than right now.

---
July 13, 2000

Over the past two weeks, we have been blessed with some of the best July fishing we have seen on the Miramichi in years.
Thanks to the unusually cool, wet weather, our water level has been ideal and continues to be much better than normal. The past few days have been slightly warmer but have still been cloudy with showers, which have helped to keep the river cool.
As a result of these ideal conditions, we have good quantities of fish scattered all over the river and more fish moving up each day. Not only have we heard of lots of fish being caught but we seem to have an unusually high number of large salmon (25 - 35 lb..) in the system. This year , it has not been uncommon for us to hear reports of several big fish each day, just among our customers alone. Add this to the large number of smaller salmon and grilse being landed and you have the makings of an impressive fishery.
At the time of this writing, we are still hearing of more fish coming into the system at Quarryville, so it looks like the good fishing should hold for a while at least. All in all, things are looking really good, which is a welcome change from the pervasive pessimism which has plagued this fishery for the past few years.

---
July 6, 2000
It is great to see the water in such good condition during the early part of July. With 5 out of the past 6 years being much hotter and dryer than usual, it is particularly encouraging to see the river at good level and temperature. After raising for a good part of yesterday, it has crested and is settling down slightly but is still a good 8 - 10 inches above normal summer levels. Water temperatures this morning ranged from 60 - 62 F and as one might expect, there are a good number of fish moving throughout the system. All in all, it looks very good for the week end. Perhaps you should be here......

---

July 4, 2000
We are pleased to report that the past few days have brought us some more favorable fishing conditions. We are especially grateful for some heavy showers on Friday evening, producing a raise of a several inches on Saturday. As a result, we have heard of many more fish being caught over the week end as new fish are coming into the system and making their way up river. Reports from some of the up-river pools above Boiestown have also been more encouraging but most of the good news seems to be from Doaktown to Quarryville.
As an added bonus to the Friday evening rain, we have received nearly an inch overnight and throughout the day on Tuesday, as well as a heavy shower Tuesday evening. Cooler temperatures seem to be prevailing as well, although Sunday was quite warm. All in all, we are in a very good position to expect some good fishing during the next few days, but as any true salmon fisherman knows, nothing about salmon fishing is ever certain.


---

June 30, 2000

Our updates have been conspicuously absent over the past couple of weeks, for which I apologize. Since this is the busiest part of the season for us at W. W. Doak, there has not been much time for anything but packing orders and getting flies to people in time for their various "fishin' expeditions." I would like to say that we have been busy catching fish but unfortunately, such is not the case.
The water conditions on the Miramichi are still very adequate, but after the warmer, dryer weather of the past couple of weeks, the river has warmed and dropped a bit. The average morning water temperatures have been in the mid-sixties with the evening temperatures in the low seventies. However, the past few days have been cooler and overcast with some scattered showers. The past couple of evenings have been very cool and today is predicted to stay cool as well.
As for the quantity of fish, we could certainly use a few more than we presently have, or at least have seen. We are hearing consistent reports of a few fish showing or moving through most pools but we are not hearing of many being caught. The general thinking seems to be that everything is running a couple of weeks later than normal and that would be consistent with what we are hearing from other salmon rivers as well. If in a couple of weeks things don't change, we'll have to "re-think" our position.
The good news is that we have had some very large fish being caught with several in the 35 lb. category.
It is really encouraging to see fish of this size, especially during this time of year. Hopefully its a sign of good things yet to come.


---
June 12, 2000

Well, we're still waiting for the warm weather to hit the Miramichi. Thus far, we have been persistently cool and damp, putting us several weeks behind some years in recent memory. However, we are hearing reports of salmon showing up in limited numbers throughout the lower portion of the Miramichi, as well as some impressive sea trout having gone through. We have heard of a number of trout in the 5 lb. range as well as one which reportedly tipped the scales at over 7 lb.. There are also reports of shad in the Upper Blackville area although not many have made it up to Doaktown yet.
Most Eastern Canadian rivers are reporting only modest numbers of early fish but those that are being seen are in good shape, and hopefully, soon to be in good supply as well. The general consensus seems to be that runs of everything from salmon to gaspereau are a couple of weeks behind schedule but then again.......whose schedule?

---

May 24, 2000
Despite predictions to the contrary, this has been an unusually cool, wet May which bodes well for the beginning of the summer run of salmon. By this time last year we were already in need of water, and that need continued throughout much of the summer. There has been little activity on the river over the past couple of weeks but there are some unconfirmed rumours of a few sea trout moving through. Since the water is a little higher than normal, anglers have not had much success in intercepting the run and the general thinking is that it is still to early for a heavy concentration of trout.
There are also some rumours of bright salmon beginning to appear in the Northwest Miramichi which historically has had an earlier run of salmon than our Main Southwest. We're keeping our ear to the ground and as soon as there is anything significant to report, we'll keep you up to date.

---

May 1, 2000

Although the fishing has slowed down a little over the past few days, we are still hearing some encouraging reports from the Doaktown area. Most anglers seem to be encountering a reasonable number of responsive salmon, and some of the reports from the lower portion of the river are quite good indeed. In the midst of some rather unpleasant conditions which have ranged from heavy rain, heavy wind and even some snowfall, those who have braved the elements over the past week have been rewarded with some exceptional fishing. One group of 8 anglers fishing for 7 days reportedly hooked 250 fish, the majority of which were salmon, with 23 of them being over 40 inches in length.
After some significant rainfall, the water has come up substantially during the past week, but it is now dropping and clearing once again, making the conditions right for some entertaining angling. We have also heard several reports of good quantities of large trout (3 - 5 lb.) being caught, which is providential, since trout season officially begins today.
As the spring salmon season unfolds, we would expect to see more activity concentrated in the Blackville area as more and more salmon make their way downstream. It would be safe to assume that the lower parts of the river should continue to offer some good fishing for at least another week and hopefully a little longer.

---

April 19, 2000

As expected, the first few days of the Spring season have been a great success with lots of reports of excellent fishing, interspersed with a few complaints from some who were not quite so successful. The general consensus seems to be that things have quieted down a bit from opening day. This may be partially due to the fact that the water has dropped considerably and is unusually clear for the time of year. Since most of our snow has melted and the remaining shore ice was lifted out by last week's rains, it is unlikely that the water will come up significantly in the next few days unless we get a heavy rainfall. However, the river is still several feet above summer level and as usual, large streamers are the order of the day.
Many of the people we see are still reporting very good fishing and the quantity of salmon appears to be quite encouraging. There have been several large fish (40 - 50") reported although there seems to be a heavy concentration of smaller fish in many areas. It is too early to draw any conclusions about the run in general so more "on stream" research is definitely required.
---

April 10, 2000
In just a few days the sun will rise on yet another atlantic salmon angling season on the Miramichi River. By October 15, it will once again have been the subject of much debate and speculation. It is a tribute to the grandeur of this river that everyone, no matter how ill-informed, feels compelled to have an opinion about it. However, as long as these opinions are given no more credibility than they deserve, we have little to worry about. Oblivious to the profitable pessimism of the conservation industry, the river shrugs off its detractors with an indifferent authority, just as it has shrugged off the blanket of ice under which it has slept for another winter. Although over the years many people have taken the Miramichi River very seriously, there is little evidence of the river having returned the favour.

Through the providential hand of its sovereign creator, the Miramichi has sprung to life once again, in an intricately orchestrated overture, overflowing with possibilities. Given the abundant run of fish which we witnessed in the fall of 1999, we have every reason to anticipate that this should be a very productive spring. Although the ice has been out of most of the river since the latter part of March, there is no reason to expect that we should not have great fishing when the season actually starts. With the warm rains of Sunday, April 9, the melting snow has brought the river up over its banks in many places but with predictions of colder weather and even snow on Wednesday, this condition is likely to change considerably. We are hopeful that by Saturday, things should be in good shape for opening day but April weather on the Miramichi is very unpredictable, so its still too early to tell.


Miramichi Angling Reports 1999
October 8, 1999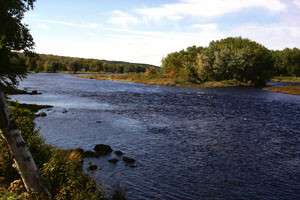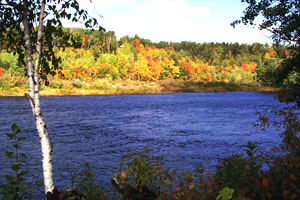 Just a quick report to let you know that the snow didn't stay long. We have had a very good week of fishing on most parts of the Miramichi and the Cains. The weather has been crisp but pleasant and the foliage is nicely at its peak. Fish are spread throughout the system with some new fish still being reported in the lower parts of the river. Some low water pools are not fishing as well, which is to be expected when the water is higher, but all in all, the conditions are quite favorable and it looks like we should have a good strong finish to the season.
---
October 4, 1999
The good news is that the fishing has improved a bit but the bad news is that the weather has not. A nasty mixture of rain and snow made afternoon fishing unpleasant, but most fishermen in the store today were reporting good catches over the week-end, with several fish over 20 lbs. being recorded. We have also heard some encouraging news from the Cains river, with a few more fish beginning to show in the lower pools. Fortunately, this early taste of winter is not expected to last long and we should be back to normal before you can say "long underwear"
---
October 1, 1999

After the spectacular raise of last week, we are happy to report that the river has settled down nicely and has been fishing quite well over the past few days. There appears to be a healthy smattering of fish filtering throughout the system and while not everybody is catching as many as they would like, the number of new fish showing seems to be increasing. Many pools are reporting moderately good fishing interspersed with a few hours of exceptional results when a school of salmon happens to move through. As may be expected, water temperatures have been quite cool lately, and although we have yet to have our first frost, tonight feels like it could be the night. The foliage has been comparatively late in turning color this year but you can see gradual changes taking place each day now, making it a beautiful time to be on the river. Yesterday I had the opportunity to visit my good friend Asa Allen at the Burnt Hill Salmon Club on the Main Southwest Miramichi, where I landed (and released) two salmon and a grilse, all three of which took a General Practitioner. Because Burnt Hill is so far upstream from the mouth, fresh fish were scarce, but of the 4 fish caught yesterday, 3 were salmon which is encouraging. Veteran Burnt Hill guide, Bob Palmer is seen here holding the larger of the two salmon I caught.
---
September 23, 1999
What a difference a day makes! In a surprise storm which was predicted to give only a few showers and some periods of rain, we received over 5 inches in most parts of the Miramichi. The water is rising steadily once again and although the fishing on Wednesday was very good, today is a different story. The river is still rising as of this evening and is not expected to crest until around noon tomorrow. It should begin dropping quickly thereafter and the fishing should improve once again, thanks to the increasing numbers of new fish. In the mean time, we're all looking for higher ground.
---
September 21, 1999
Now that's a river! As if last week's raise of water were not enough (and it probably wasn't), we received another three inches of rain over the week-end due to the effects of Hurricane Floyd. The water began to raise almost immediately and during the rain on Friday, many of the pools down river from us began to see good numbers of fish moving about. All in all, the water came up about 3 - 3 1/2 ft. but it has dropped and cleared considerably over the past couple of days. All camps are reporting better fishing as the older fish which have been in the system are moving steadily up river, but the real news is the abundance of new fish that are coming into the river at Quarryville. The reports from the Renous and Blackville area are very good indeed, the most notable of which is the story of two anglers who were fishing in an average pool on Monday, during which time they were into 11 fish. Both the Mountain Channel and Wade's are also reporting good fishing with several salmon in the 15 - 20 lb. class being caught. In the Blissfield area, the folks at the Miramichi Salmon Club were into about a dozen fish this morning, some of which appeared to be fresh fish. One interesting, story from the Salmon Brook Club above Boiestown involves a grilse landed on a General Practitioner, which is not an unusual occurrence. What is odd, however is that the grilse had another G. P. in his mouth, which he had apparently broken off in a previous struggle. Although he is obviously a slow learner, you do have to admire his consistency! Many of us were hoping that this raise would also start some fish moving up the Cains River as well, but several anglers have been in to the Cains over the past few days and the general consensus is that not much is happening there yet. However, if our water holds, we should see some activity on the Cains before long. In the mean time, we can look for a good deal of excitement on the Miramichi in the next few weeks.
---
September 13, 1999

We are pleased to report that our much - anticipated raise of water has arrived. This picture was taken this evening (Sept. 13), and by contrast with the photo on the Sept. 9 report, it clearly shows the effects of last Saturday's rain. Most reports indicate that the water has come up by 15 - 18 inches and is starting to drop and clear. The water temperature has also improved significantly, starting today at 64. This should lead to some very good fishing in the next few days as there are already reports of new fish entering the river. Stay tuned for more details.
---
September 9, 1999

We have been waiting patiently for some encouraging words to report about the state of the river, but with a prolonged period of unseasonably hot, dry weather, encouragement has been hard to find. The water level has remained persistently lower than any point in recent memory and the water temperature has been hovering in the mid 70s throughout much of last week. While the past few days have been overcast which has helped to bring water temps. down to the low 70s, the humidity has been exceptionally high and the nights have stayed unusually warm, although tonight is finally much cooler. The good news is that some northern tributaries of the river received several heavy showers on Wednesday, Sept. 8, and some areas are reporting a gradual raise of a couple of inches. Much more rain is still needed and we are watching the weather maps (links above) carefully to see if the predicted weekend rainfall actually arrives. If and when it does, there are hundreds of salmon in the tidal water at Quarryville just waiting for a change in water conditions to beckon them up-river. Having heard about these fish, I took a drive down this evening, and although we witnessed an incredible acrobatic act for about an hour, the slow shutter speed on our digital camera could not really do it justice.

On another encouraging note, Flo's Fishing Lodge in Doaktown has reported several salmon and nearly a dozen grilse over the past week, with just a few rods in camp and Wesley Curtis reports from the Mountain Channel Lodge in Blackville that he was into four fish yesterday, one of which was a fresh grilse.

All in all, both Salmon and Grilse counts have shown a healthy increase this year and we are hopeful that with some rain, that increase will produce some exceptional fishing.
---
August 27, 1999
I wish I could tell you that we have received more rain and that the water has held from the last raise, but unfortunately, I can't. For most of this week the water has been consistently low, although not quite as low as earlier this summer. There were good quantities of fish moving around until last Saturday, but since then, the water has been warming up too early in the day and the fish have been taking refuge in the cold water pools. Although the nights are getting longer, they have not been as cool as earlier in the month so the heat of the day has not been offset by cooler night air as would normally be the case in late August. Thus it is that, once again, we find ourselves in need of a change of weather. When it happens, we expect to see the fishing improve significantly. Until then, only the cold water pools are producing.
---
August 18, 1999

After a badly needed raise of about 2 feet, the water has been dropping and clearing for the past few days. Although it was still quite dirty on Monday, by Tuesday it had cleared up nicely and people began to get fish again, including this 20" trout, caught by Gary McCavour of Saint John, NB at Flo's Fishing Lodge in Doaktown. There have been unconfirmed reports of a 32 pound salmon caught and released in the Upper Blackville area as well, and the lower portions of the river are reporting excellent quantities of new fish coming into the system daily. The conditions are extremely favorable, and with heavy showers this afternoon bringing another 4/10" of rain, it looks like our water problems are finally over for a while. The next few days should provide some excellent fishing and we'll try to keep you updated as often as possible.
---
August 14, 1999
With over two inches of rainfall in the last 24 hours, the Miramichi is beginning to rise quite significantly. We're not sure how high it will go but it has certainly received a good, heavy soaking. The raise of last Monday was short-lived, but the new fish which entered the system earlier this week, coupled with the cooler water temperatures, still made for some pretty good fishing through most of the week. With today's heavy rainfall, the situation for an early fall run looks very positive. There are good reports of fish holding in the tidal water and this raise should provide the impetus to start them moving upstream. Now that things are changing rapidly, we'll be posting more reports as the situation develops.
---
August 10, 1999
ITS OPEN AGAIN!!!!
Through the providence of God, after several days of unseasonably cool weather and a blessed rain over the weekend, the Dept. of Fisheries and Oceans announced this morning that the Miramichi would be open to all day angling once again, effective 6:00 PM this evening.
We will eventually be publishing some important information regarding this closure in the hopes that people will do their part to prevent future occurrences.
We are concerned that this closure was based more upon ideology than on biology and many of the seeds of this ideology were planted in the heavily fertilized soil of the 1998 panic. Unwittingly, responsible angling has been portrayed as a threat to the salmon, rather than the vehicle through which the salmon is best protected. Thus, it is time that we ask both the federal government and the conservation industry alike for a written affirmation of the legitimacy of angling as the primary, practical conservation tool through which both atlantic salmon and atlantic salmon rivers are actually preserved and protected.
Some will insist that they seek to save the salmon for angling, but I contend that we must seek to save the salmon through angling. To do anything else is to continue to expose our rivers to the serious threats of negligence, apathy and abuse. Remember, ANGLING IS CONSERVATION!
By the way the salmon fishing is great on the Miramichi. We have had excellent quantities of fish in the system and now that the weather has changed, new fish are coming in as well. The Mountain Channel Lodge has reported great fishing in the past few days and have had several fish with sea lice. Yesterday morning at Porter Cove there were 13 fish hooked with a good mix of both salmon and grilse. Water temperatures are in the very low 60's and the water has risen several inches, so we are in great shape.
---
August 2, 1999
MIRAMICHI RIVER SYSTEM CLOSED TO ALL AFTERNOON AND EVENING ANGLING!
Angling permitted from 2 hours before sunrise to 10:00 AM only.
After a couple of weeks of unusually hot dry weather with only an occasional scattered shower, the river is lower and warmer than it has been at any point this year. As a result, fishing has been poor in most areas with the only exception being those pools which have a source of cold water from a brook or spring. While we have very good quantities of fish in the river, we are in desperate need of rain and cooler weather. Today (Aug. 2) was much cooler but unfortunately, still dry.
In a surprise move on Friday, just before the long holiday week end, the Federal Dept. of Fisheries and Oceans announced restrictions against all salmon angling past 10:00 AM on the entire Miramichi watershed until further notice. Admittedly, the water is cooler and thus, more productive during this time of day and as such, fish are less stressed. However, this blanket restriction does not take into consideration the fact that most anglers have been acting in a responsible manner and have presented very little danger to the resource. By forcing anglers off the water entirely, the rivers and tributaries are now left largely unprotected from poaching, due to the vast area to be covered and the limited number of enforcement personnel.
It is not clear what protocol has been established for the lifting of this restriction. Given the present attitude of panic and disarray on the part of DFO as a result of the alarmist rhetoric of the conservation industry, it is quite likely that we will see more punitive measures taken against angling before cooler heads and cooler temperatures prevail.
---
July 14, 1999
After last week's encouraging signs of new fish moving through the system, we had excellent fishing and great conditions over the week end, with cool overcast weather and about an inch of rain in most places. Heavy showers brought even more rain to some areas and while this brought the water up a few inches, the raise was short-lived. Water levels are low once again again but thanks to cool evenings, the temperatures have remained cooler which has meant that fish are still taking well in most areas. The Main Southwest seems to have lots of fish in the lower portion and there are good indications that they are moving throughout the system. The reports from the Northwest are also good but there seem to be comparatively fewer fish in the Little Southwest and the Renous.
---
July 8, 1999
We are pleased to report that things are looking better on the Miramichi. While we have not received as much rain as we would like, and although the water is a little warmer than would be considered ideal, there are lots of fish moving throughout the system. Many areas are reporting better catches since last week-end, with heavy concentrations of grilse as well as a good number of salmon. While our best reports have been from Doaktown to Quarryville, there are increasing numbers of fish in the upper portion of the river as well.
With cooler nights this week, we have seen the water temperatures dropping comfortably overnight and warming up gradually during the day. We have had a few overcast, cooler days as well which has helped a bit. Although we have had several showers in various parts of the river, we could still benefit from a good steady rainfall. In the mean time, the salmon are making the best of it, and nobody seems to be complaining, which is a nice change!
---
June 28, 1999
After a hot, dry week in which very few fish were caught throughout most of the river, we were greatly relieved to finally receive some rain today. Rainfall amounts varied somewhat but there were some significant showers in the afternoon which should certainly help the gardens, the lawns and especially, the river. Although we could easily benefit from two days of steady rain, we are grateful for what we have received and we are hopeful that its effects will quickly be felt on the river. Many of us remain convinced that when the river conditions do improve, the fish will appear in good numbers but under the hot, dry conditions of last week, only pools with a steady supply of cold water from brooks or springs have been productive.
---
| | |
| --- | --- |
| Porter Cove Upriver - June 19 | Porter Cove - Downriver - June 19 |
| | |
June 21, 1999
The past few weeks have been a mixed blessing on the river in several ways. We have had good quantities of early run salmon as well as a surprisingly good run of grilse. We have also had less water than we normally do in June which was initially an asset as it made it easier to get a fly in front of fish which would otherwise be much to transient to stop. Cool temperatures prevailed throughout early June but by June 10, we were in the midst of a serious heat wave and daytime water temperatures climbed to the mid seventies. Not surprisingly, the fishing slowed down considerably with only a few fish being taken, mainly from pools which have a supply of cold water from brooks or springs. A smattering of rain on June 15 brought with it some much cooler days and very cool evenings, which helped to restore the water to a more acceptable temperature. However, this past week-end brought more warm days and once again the water temperature is higher than we would like, beginning the day in the mid to high sixties and increasing to the mid seventies by late afternoon. With no rain in sight, it seems unlikely that we will break out of this cycle within the next few days, but most people seem convinced that when we do get rain, we will see some very good fishing. A few fish are still being taken and confirmed reports of fish in the tidal water seem to provide some grounds for optimism, but a good, heavy rainfall is badly needed. We'll update more frequently when conditions begin to change significantly so stay tuned.
---
June 1, 1999
With another early spring well behind us and the anticipation of another bright salmon season ahead of us, it is encouraging to hear of several reports of salmon being caught in both the Northwest Miramichi and the Main Southwest as well. The Northwest is traditionally an earlier river than the main southwest, so the appearance of bright salmon there as early as two weeks ago is not entirely uncommon, but nonetheless, it is very good news. On the Main Southwest as well we have been hearing increasingly better reports of fish being caught throughout the lower portions of the river from Doaktown down to Quarryville. Although the general fishing effort on the Main Southwest is minimal at this time of year, when you consider the number of fish which have been caught this early, there is some cause for optimism, which seems in rather short supply in the salmon world lately.
Reports are also circulating about a respectable run of sea trout, many of then in the 2 - 4 pound class. As with every sea trout run, it seems to last for what seems like a few hours and then disappears to the relative safety of the head waters, but if you're there when it hits, it is fun while it lasts. All in all, this is a wonderful time to be on the Miramichi (like there's ever a bad time).
Miramichi Angling Reports 1998

from WWDOAK.COM


October 9, 1998

The arrival of the month of October brought with it yet another heavy rain, dumping nearly two inches on most of the watershed and raising the river several feet. Although a few fish were caught even in the midst of the heavy water, the fishing slowed down significantly over the weekend and really didn't begin to improve until Oct. 5 - 6. Even in its improved state, it has been slower than we would like, due to the persistently high water levels. However, the population of fish being observed in many pools is quite encouraging, but under these conditions, salmon are so transient that it is difficult to get a fly in front of them for more than one cast (so it had better be a good one!). Over the past few days the water has been clearing nicely but still remains much higher than normal.
We were forecast to receive more rain on October 8, but actually only received about 3/8" which should not have much of an effect. All in all, things are looking better than they did a week ago.
It is not clear whether there are more runs of fish yet to come or not. It is possible that the majority of our salmon are taking advantage of the water conditions and heading to the spawning grounds earlier than in recent years. The reports from the lower parts of the river would seem to indicate that fewer fish are being seen there in the past few days while the upper portions are reporting significantly better quantities.

---

September 29, 1998

We have certainly been having our share of rain the past few days and the water has remained considerably higher than normal as a result. On Tuesday evening, September 22, after a generally good day of fishing throughout much of the river, we were hit with well over an inch of rain. The subsequent raise of water brought even more fish through the system but made it difficult to get a fly in front of them long enough to elicit a response. By Thursday, favorable reports were once again circulating with two in particular which stood out. Larry Van Peursem of Bangor, ME landed a 30 lb. Salmon at Flo's Fishing Lodge on a #2 Green Machine while just upstream from Flo's, George Peavey, also of Bangor, landed a salmon of similar size at 42" also on a Green Machine. We have heard of some good fishing at Wade's Fishing Lodge over the weekend as well with 10 to 12 fish landed each day of Saturday and Sunday. On Sunday afternoon, the upper portions of the Miramichi received yet another 1/2" of rain which again brought the water up a few more inches. There are still good numbers of fish being seen but aside from another 30 pounder caught at the Miramichi Salmon Club, we have not heard great reports from the past two days. As the water clears again we should see some better catching in the next few days. Although the reports from the Northwest and the Little Southwest have not been encouraging, the Cains system is beginning to produce some good fishing opportunities, having benefited tremendously from the higher water this fall. All in all, with water and salmon in the river and the fall foliage nearing its peak, this is once again a wonderful time to be on the Miramichi.

---

September 21, 1998

The conditions on the Miramichi are as favorable as they have been for several years, with good water levels and regular rainfall every few days. We have had nearly an inch of rain over the weekend and today, and the water is raising a little as we speak. There is a bit more rain in the forecast which is even better. The quantities of fish are very encouraging and are widely dispersed throughout most of the system. However, the lower portions of the river from Boiestown down to Renous have seen more fish than elsewhere during the past few days. We have heard encouraging reports of fresh fish with sea lice being caught in the Blackville / Blissfield area yesterday and today with a good concentration of grilse interspersed with some large salmon. The most common complaint however is that although most anglers are seeing lots of fish, getting them to take has not been easy. One fisherman asked us for a "Tetanus" fly which he thought might be appropriate for salmon with lockjaw. As the season progresses, the likelihood of more incoming fish is steadily increasing. Traditionally, the latter part of September is the time when we see the greatest concentration of large fish and with conditions as good as they are, things are looking great.

---

September 12, 1998

After receiving over 3 inches of rain this past week, we are pleased to say that the water conditions are ideal for Miramichi fall fishing. Having come up about 2 ft. in all, it is now settling down a bit and is very fishable. Although today was a little quieter on the river, we have been hearing good reports of fish moving throughout the system with several big fish having been caught recently. In the past few days, Wades Fishing Lodge has released three fish in excess of 30 lbs., the largest of which was 36 lbs. Pond's also reports a 44" salmon taken on a green machine just above Doaktown and there are unconfirmed rumors of a 40 lb. fish at Rocky Bend in the upper end of the river. All in all, things are looking very good for a great fall.

---

September 9, 1998

After going for quite some time with no significant rainfall, I am pleased to report that we have received 2 1/2" overnight and the water is raising as we speak. We expect it to continue to raise for at least another 12 - 18 hours and possibly crest by noon on Thursday. Fishing reports over this past weekend have been quite encouraging but the rain will bring about a welcome change in the water which should bring more fish into the system and shake up the ones we presently have. Several pools have already reported good fishing this morning as the water began to rise and we are hopeful that things will continue to improve over the next few days.

---

August 14-27, 1998

The past couple of weeks have been reasonably productive, but there do not seem to be significant quantities of new fish appearing yet. The water levels and temperatures have been much better than normal for this time of year and we have had an extra 3/4" of rain over the past couple of days to bring the river up again by several inches on the Main Southwest Miramichi. Reports from the Northwest Miramichi indicate a much more significant raise of water for that river. We are hearing of a few more large salmon being caught and several large fish have been seen in the lower parts of the main river, but not in heavy concentrations at this point. Unlike other recent years, water conditions are very favorable for a good fall run, however, if and when they decide to appear.

---

August 12-13, 1998

A wonderful demonstration of God's providence has put an end to our hot dry weather and blessed us with over 3 inches of rain in a 24 hour period. This in turn has brought the water up by nearly 3 1/2 ft. as of mid afternoon on Wednesday. It has crested now and is dropping and clearing quickly, which should make for some greatly improved fishing by the latter part of the week end and well into next week. It should also put more fish up to the headwaters which will give us a much more accurate representation of this year's salmon population than the low water Septembers of the past several years have allowed.

---

August 7 - 11, 1998

The past few days have been exceptionally hot and dry and unlike last week, the evening temperatures brought little relief as we sweated our way through a scorching weekend. As you might well imagine, the fishing slowed down a great deal and there have been very few reports of fish being caught in the last few days. However, we are pleased to report that as of Tuesday morning, the air temperature has cooled significantly and we have had a bit of rain overnight. Today's forecasts are calling for more rain throughout the northern and western parts of the province with some areas due to receive up to 2 inches of rain in the next 24 - 36 hours. Predictions are that much cooler air will accompany the system and the outlook for the latter part of the week is for more moderate temperatures. If this happens, we should see greatly improved conditions on the river and this may be enough to start fish moving in to the system once again.

---

July 29 - August 6, 1998

At the time of this writing some New Brunswick media reports are implying that the Miramichi River system is closed to angling. We would like to correct this most recent example of reckless reporting by assuring you that the Miramichi is still open and is actually doing quite well, in the context of the time of year. We have had our usual supply of warm days but their effect has been offset by some very cool clear nights causing the early morning temperatures on the river to be quite favorable. After the heat of the day, the evening water temperatures have been less than ideal but all in all, the fishing is still holding up during a time when it is traditionally slower. We were blessed with two good solid rains last week and the height of the water is still quite adequate. There are small spurts of fish coming through from day to day, causing some pools which normally do not hold fish to report several fish a day being caught as they move through. Generally speaking, however, the holding pools where the water is cold and deep have provided the best angling opportunities under these conditions.

---

July 25 - July 28, 1998

With low evening temperatures and cooler days, the water temperature has dropped considerably and is now in the mid to high sixties during most of the day. We are hearing of more fish beginning to move in the Blackville area, with a good number of people reporting fresh fish with sea lice on them . This is a very encouraging sign and we are hopeful that the water temperatures stay low enough to keep these fish on the move. We have received a bit of rain on Tuesday but we are hopeful that the headwaters will receive a little more overnight. The water is still much higher than the lows of '94 and '95 but it is at its lowest point so far this year. This has made for better fishing in the Blackville area, as the water had been too high for many of their pools earlier. There is still enough water to comfortably allow fish to move if and when they decide to do so.

---

July 9 - 24, 1998

The conditions presently are improving slightly, after a couple of weeks of extremely hot weather. With several of the nights also being very warm, the water temperatures have remained quite high. Thanks to a big rain over the week - end of July 11-12, the water came up over two feet and although it has been dropping steadily, we still have sufficient water levels to sustain acceptable fishing. On Thursday, July 23 we received about 1/2 inch of rain in the Doaktown area and although we did not hear of any significant raise of water, the water temperature was much better on Friday morning hovering in the mid to high sixties. Friday evening has also been quite cool and we are hoping for better conditions as the week-end progresses. Reports of fish have been quite spotty with large concentrations of fish in the cold water pools and no significant run moving through at any point. While the number of fish coming in early was much better than predicted, most of them went directly to the headwaters with the good water of late June and early July. We have heard of several fish being caught within the last day or two but we are still waiting for more fish to start moving again. A mid season assessment was done on the Miramichi and the results were announced on Friday, June 17. The grilse retention limit remains at 1 per day but an angler can now hook and release up to 4 fish per day. Please note as well that barbless hooks are not required for the Miramichi, despite rumors to the contrary,

---

July 1 - July 8, 1998

With an unusually high rainfall and cool nights, the water conditions have been much better than normal throughout this past week. July began with heavy rain and water temperatures in the low to mid sixties. This brought a good number of fish through most of the pools and interception was good until the week-end, when things began to warm up and water temperatures crept up to the low 70s. With another 1 1/2" of rain on Sunday, the water rose yet again and the temperatures stayed in the mid sixties until Tuesday. With the water dropping slowly and fish still moving, the catching has slowed down a little, mainly due to the rising temperatures on Tuesday and Wednesday. However, the quantity of fish remains very good with good reports of fish sightings from most parts of the river, especially downstream from Doaktown.

---

June 23 - June 30 1998

This past week on the Miramichi has been one of the most encouraging weeks of summer fishing we have had in quite some time, with an abundance of both salmon and grilse showing up in all parts of the river. We are continuing to hear very positive reports of more fish on their way and many of the pools along the Main Southwest Miramichi are producing several fish per day. The reports from the Northwest Miramichi are equally encouraging. Thanks to a fairly steady supply of rain throughout the entire watershed, along with some intense localized showers, we have had a good flow of reasonably cool water, except for a couple of warm days this past Thursday and Friday when the water temperature climbed to the low 70's. Saturday was much cooler, however, and the water temperature slipped back down to the low 60's. As of this writing, we are getting more rain and things look good for the next few days and hopefully, for the next few months.

---

June 6 - June 23 1998

We are happy to report that the Miramichi is in excellent condition and the quantities of fish are improving every day. We are hearing increasingly better news from fishermen on all parts of the river, although most of the success seems to be in the middle and lower portions. However, this may just be due to limited reporting from the upper end. We do have it on good authority that several salmon have already reached the headwaters along with an abundance of sea run trout and one camp in the Upper Blackville area reported 19 fish caught last week ranging in size from 25 lb. and down. We have had very good rainfall for the past 10 days and this, coupled with cool nights has put the river in prime condition for salmon mobility. After raising yet again over the past week-end, the river is now dropping gradually and should be at optimal fishing level in a day or so. As of June 15, the counting facility on the Main Southwest Miramichi was reporting more fish at that point than during the whole of June 1997 and our most recent information indicates a good mixture of both Salmon and Grilse.

---

May 8 - June 5, 1998

The ending of the Spring Salmon fishery of 1998 turned out to be quite uneventful with very little catching activity reported during the latter part of the season. This time period is traditionally less productive but after such an unusually late season in 1997, many people were hopeful that the same thing might be repeated this year, despite a much earlier spring. Although the fish were not as plentiful as in the first few weeks, we were blessed with unseasonably warm, sunny weather which helped to make even fishless days much more enjoyable. As the month of May drew to a close, rumors of scattered interceptions of bright salmon began to swirl throughout the area and many of those unconfirmed reports have taken on a greater air of reliability as the month of June unfolds. As more anglers are compelled to discover firsthand what might be lurking beneath these mysterious June waters, we are hearing increasingly more reliable accounts of success. Some anglers are now reported to have caught and released several salmon so far and while the early June fishery is always unpredictable, the lack of quantity is more than offset by the size and quality of the fish which are caught. On the Main Southwest Miramichi, the majority of early June salmon are in the 10 - 20 lb. range and are predominantly female. Taking advantage of an unusually long period of cool, wet weather and higher than normal water conditions here on the Miramichi, most fish in the river at this point are moving quickly upstream without stopping to interact with anglers. Thus, it is safe to assume that the actual number of salmon in the river is certainly much higher than those intercepted by anglers and that gives us great cause for optimism. There are also reports of good quantities of shad in the lower parts of the river although as yet we have not heard of many in the Doaktown area. As for the always evasive sea trout run, there have been a few reports of some nice ones but not enough to declare that the "run has hit". We are regularly asked to predict the arrival of our impressive sea trout run but they repeatedly defy our anticipatory efforts and frequently sneak past most of us with nary a sideways glance. Based upon past years, however, most of the sea trout run will have found their way to the headwaters before June 15.

---

April 25 - May 7, 1998

As the Spring Salmon season has unfolded, it has brought with it a few surprises. For example, we have had excellent quantities of fish being reported in the upper river area above Boiestown which is traditionally not as productive during the latter part of the spring season. With the early ice out this year, there was even more reason to suspect that the spring fishery would be concentrated in the lower parts of the river but such is not the case. There have been lots of reports of fish jumping and rolling in all parts of the river which has made for great entertainment, but the salmon are less responsive than many would like and thus, there have been fewer caught in the past week than in the earlier part of the season. However, with the unusually pleasant weather, the early explosion of leaves and buds, the abundance of trout in the river and even the premature appearance of "fiddleheads", this is a wonderful time to be alive in the garden of the Miramichi. Of particular interest to us is the number of really large fish in the 42 - 48" class, the presence of which assures us that we will continue our heavy concentration of juvenile populations in the Miramichi, despite some speculation to the contrary. It is becoming increasingly clear that the credibility of those who have spent their winter casting doubt over the health of the Miramichi is being seriously undermined by the experiences of those who have spent their spring casting flies over the wealth of the Miramichi.

---

April 15 - 24, 1998

The first week of the Spring Salmon season of 1998 is now well behind us and it has been a rather typical opening week. The first few days were warm and pleasant with encouraging reports of good quantities of salmon and grilse being hooked. As a result of the warm weather and a heavy rain on Friday, April 17, by Saturday, the water had risen significantly to its highest level of the year, covering the fields in many low lying areas. As is normally the case, all of the debris and remaining shore ice was washed away as well, making navigation by boat a rather difficult task. Needless to say the adverse conditions affected the catch rate over the weekend but by Monday, we were beginning to hear of fish being caught once again and as this week has progressed, the reports have been steadily improving. While there appears to be more salmon than grilse being caught, the quantities of both are quite good. Unless there is a significant change in water conditions in the next few days, we have good reason to expect that the fishing will continue to be good for the next week or two at least.

---

Pre season - 1998

This has been a rather unusual spring to say the least. After a massive snow build-up during the months of November - January, we managed to escape any significant snowfall in February and early in March, after a heavy rainfall and a bit of melting, the ice ran in much of the Main Southwest Miramichi. The normal time for ice out is April 7 - 15 so we were at least 4 weeks ahead of schedule. In 1997 the ice didn't run until the last week of April so this year's ice run was a full 6 weeks earlier than last year's. It is unusual to see the ice go in early March although in 1996 we actually saw the ice run in January. However, it froze over again, as was also the case in 1970 when the ice ran during a massive flood in early February. As for 1998, with a significant amount of snow still on the ground and with two large ice jams, one in Porter Cove and one in Upper Blackville, the Miramichi remained cool and slushy for quite some time after ice out. Around the first of April the last remaining ice jams cleared and the river was ready for another season to begin. There is always some question as to whether the fish will start to move out early in a year with an early thaw but the general thinking is that as long as there is ice and snow melting into the river, the salmon seem quite content to stay put until their normal time of departure, proving once again that once you get to the Miramichi, it is hard to leave. One interesting point to consider about this past winter is that due to the early snow cover, there was very little frost in the ground over the winter. This in turn meant that when the spring thaw began, much of the water was absorbed into the ground which will be of significant help to our water table in the event of another dry summer.