Simms
Packs

Rod
Cases

Orvis
Luggage
Simms Waypoints Sling Pack Small

Compact, ultra-light, feature-rich fishing sling for conquering gear chaos in comfort. Shoulder essential fishing gear in chaos-free comfort thanks to Simms' new ultra-light, sized-down Waypoints Sling Pack. Patterned shoulder and side secure straps ensure great fit and all-day comfort. Additional features include a U-shaped zippered opening for easy-access to the 10-liter main compartment. And when it's time to swap flies a fold-down workbench, with tippet tender and floatant/shake holder, makes for seamless transitions. Finally, tap magnetic tool ports for easy hemo/plier/nipper access, compression straps for exterior storage, and a top-zippered pocket for sunglasses safekeeping.

| | | | |
| --- | --- | --- | --- |
| | #3662 | $99.95 | |

Simms Waypoints Sling Pack Large

Advanced, high-volume fishing sling for conquering gear chaos in comfort. Shoulder a full load in comfort thanks to Simms' ultra-light, high-volume Waypoints Sling Pack. PU-coated 420D nylon Oxford and 210D nylon HT Dobby fabrics are tenacious through tough conditions, while patterned shoulder and side secure straps ensure balanced fit and comfort. Additional benefits include a U-shaped zippered opening for easy-access to the 17-liter main compartment. A sturdy fold-down workbench, with tippet tender and floatant/shake holder, makes for seamless fly transitions. Tap magnetic tool ports for easy access to pliers and more. Exterior compression straps add storage. And safely store sunglasses in the top zippered pocket.

Video

| | | | |
| --- | --- | --- | --- |
| | #3660 | $129.95 | |

Simms Waypoints Dual Chest Pack

Simms' Waypoints® Dual Chest Pack is an on-point companion that stays true to what's important—the fishing. The ultralight design rides comfortably thanks to a shoulder-hugging flat harness system engineered for effective, ergonomic weight distribution. Dual chest pockets are fitted for fly boxes. Magnetic tool ports with a retractor docking station keep tools at the ready. And an exterior loop field allows you to carry more thanks to a patch-on tippet tender and floatant holder. When you're ready to explore the next run, the lock buckle closure on the center front zipper delivers a secure, slip-free fit.

| | | | |
| --- | --- | --- | --- |
| | #3645 | $119.95 | |
Simms Headwaters Gear Bag

Simms' Headwaters™ Gear Bag isformulated to keep fundamentals in check with 90 liters of essential wet/dry storage. The separate Wet Storage compartment houses waders and boots while in transit, and the easy-access dry storage section safely stows everything from layering pieces to month's worth of fishing paraphernalia. Additional angler appreciated features include side organization pockets, tuckable exterior rod-tube holders, and a bomber waterproof TPU bottom.

| | | | |
| --- | --- | --- | --- |
| | #3670 | $199.95 | |

Simms Headwaters Tackle Bag

Savvy organization for anglers with extras, Simms' Headwaters™ Tackle Bag offers garage-like gear capacity from truck tailgate to boat deck and beyond. The easy-access primary compartment, with double-zipper closure, holsters an array of small to extra-large boxes, while exterior pockets are ready to receive a cache of tools, mono spools, and more. Additional features include tuckable rod-tube holders on the exterior, a waterproof TPU bottom, and rugged nylon DWR coated upper fabrics.

| | | | |
| --- | --- | --- | --- |
| | #3675 | $179.95 | |

Simms Headwaters Chest Pack

Simms' Headwaters™ Chest Pack features a fluid design that ushers all your fishing necessities to the forefront. A full-fledged member of the Catch & Release modular system, Chest Packs synch with various Headwaters™ packs for integrated carrying options. On its own and in charge of organizational priorities, the main zippered compartment stores fly boxes, reels, and a bevy of accessories and tools. Flip out and fold down its compression molded front panel for a convenient workspace.



| | | | |
| --- | --- | --- | --- |
| | #3640 | $86.95 | |
Sage Rod / Reel Combo Case

Made from durable black ballistic cloth with an embroidered platinum Sage logo, these cases feature divided liners, double locking zippers and reinforced endcaps for extra durability.

9 ft. 4 pc. rods

#3700

$55.95
10 ft. 4 pc. rods

#3701

$55.95
9 ft. 2 pc. rods

#3702

$62.95
10 ft. 2 pc. rods

#3703

$62.95

Sage Double Rod / Reel Combo Case

Made from durable black ballistic cloth with an embroidered platinum Sage logo, these cases feature divided liners, double locking zippers and reinforced endcaps for extra durability. Double cases also feature a padded nylon reel compartment divider.

| | | | |
| --- | --- | --- | --- |
| 9 ft. 4 pc. rods | #3705 | $62.95 | |
| 10 ft. 4 pc. rods | #3706 | $70.95 | |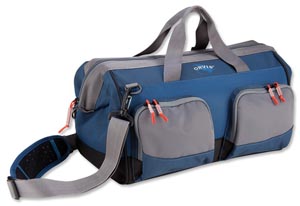 Orvis Safe Passage Kit Bag
The Safe Passage Kit Bag is an absolutely essential piece of fishing luggage for any angler. A fly-fishing gear bag will keep your standard gear organized and ready for any fishing trip. Wide mouth opening for easy access and organization of all your essential gear, fly boxes and accessories. Interior pockets designed for organizing tippet spools, sunglasses, spare spools, tools, binoculars and any other necessary gear. Exterior rod tube holder. Two front zipper pockets for additional storage. Adjustable and removable shoulder strap with perforated foam pad for comfort. Fishing luggage in slate blue.

Dimensions: 19¾"L x 9¾"H x 10."W.

Capacity: 1,925 cu. in.
| | | | |
| --- | --- | --- | --- |
| | #3655 | $155.00 | |
| | | | |
| --- | --- | --- | --- |
| | Last Updated: January 23, 2017 at 8:19:42 AM | W. W. Doak (506) 365-7828 | All prices are listed in US Dollars |