| | |
| --- | --- |
| Your Location | |
Regal Rotary RCR4

This is the vise of choice among our professional fly tyers, including each of us here at the store. In addition to the 360 degree rotation, the head is uniquely designed to enable it to pivot 220 degrees. We have yet to find a more rugged or functional vise than the Regal.


| | | | |
| --- | --- | --- | --- |
| Regular Head | #7500-1 | $175.00 | |
| Midge Head | #7500-3 | $175.00 | |
| Stainless Steel | #7500-4 | $250.00 | |

Regal Revolution
Bronze Pocket Base

The Revolution Vises combine the ultimate hook-holding power of Regal's famous head designs and true in-line rotary function. The vise can be rotated for winding materials on a hook, or tighten the barrel and wrap materials in the traditional method. All of the vises in the Revolution Series revolve around a 360° axis and articulate 220° vertically.

Regal Inex FHC-0

The REGAL INEX VISE combines simplicity and function in a vise that embodies rustic elegance. The INEX VISE features the same versatile, powerful gripping head design and materials that made REGAL the industry leader.The INEX now features a Standard Medallion Head allowing you to rotate the head 360° to inspect the other side of the fly.
Regal Medallion Head Only

This workhorse of the Regal Vise fly tying family has been their flagship jaw for years. It's a versatile vise capable of holding hooks sizes 22 to 1/0.

Regal Midge Head Only

Specifically designed to hold hooks as small as size 32 and as big as 6, the Midge is meant for small flies but can tie a wider size range if needed.

Regal Stainless Steel Head Only

The jaw is manufactured from heat-treated stainless steel that allows for machining the small profile, yet maintains the durability and Bulldog Bite expected in a Regal. Extremely versatile and strong, this vise head can accommodate hook sizes from 32 to 2.
| | | | | |
| --- | --- | --- | --- | --- |
| Regal Bobbin Holder Extreme | | Regal Bobbin Holder | | Regal Vice Spike |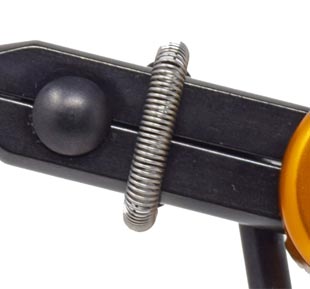 Regal Material Spring
| | | | |
| --- | --- | --- | --- |
| | Last Updated: January 26, 2021 at 2:47:37 PM | W. W. Doak (506) 365-7828 | All prices are listed in US Dollars |