| | |
| --- | --- |
| Your Location | |
Regal Rotary RCR4

This is the vise of choice among our professional fly tyers, including each of us here at the store. In addition to the 360 degree rotation, the head is uniquely designed to enable it to pivot 220 degrees. We have yet to find a more rugged or functional vise than the Regal.

Regal Rotary
Bronze Pocket Base - RPBR-10P

The same great features as the standard vice, but with a heavy bronze base for extra stability and portablity.

Regal Inex FHC-0

The REGAL INEX VISE combines simplicity and function in a vise that embodies rustic elegance. The INEX VISE features the same versatile, powerful gripping head design and materials that made REGAL the industry leader.The INEX now features a Standard Medallion Head allowing you to rotate the head 360° to inspect the other side of the fly.
The Anvil Apex Vise

Hook Range #32 to 6/0
Tool steel jaws
Stainless steel construction
In-line rotary left or right
Hand tying adjustment
Included C-clamp and pedestal base
Lifetime warranty
Made in the USA

Anvil Atlas Vise

Hook Range #32 to 7/0

Fully Reversible for left hand tiers

Billet machined Aluminum C-clamp

O-1 tool steel Jaws

Stainless Steel Construction (440-c and 303 )

Separate tying friction & spindle lock

Tying friction adjusted by knob on end of vise to provide the smoothest feel during wrapping

Rust free Teflon bushings retain smooth feel in harsh conditions.

Included C-clamp and pedestal base

Long throw cam action lock up

Finger pin can be located in any of four pre-drilled positions.

Long finger pin with ball end for easy wrapping.
Made in the USA

Sunrise AA Vise

This draw collet design vise is a good value for the beginner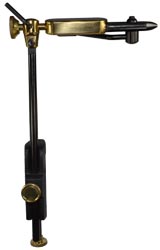 Sunrise Eagle 360 Clamp Vise
Parallel Jaws.

Not available for export.
| | | | |
| --- | --- | --- | --- |
| | Last Updated: December 11, 2018 at 9:39:44 AM | W. W. Doak (506) 365-7828 | All prices are listed in Canadian Dollars |