| | |
| --- | --- |
| Your Location | |
Airflo
Freshwater

Airflo
Spey / Switch
Airflo Superflo C.A.S.T.

The CAST line (Canadian Atlantic Salmon Taper) is designed to be the ultimate all-around tool for targeting Atlantic Salmon with a single hand rod. The line loads 9 and 10 foot rods easily, and the precise front taper can deliver a fly into the wind but is not too aggressive to disturb low clear water late in the season. The CAST is also an excellent choice for anglers chugging skaters or swinging muddlers and traditional patterns for summer-run steelhead.

| | | | |
| --- | --- | --- | --- |
| Size: WF7 - WF9 | #3315 | $89.95 | |

Airflo Superflo Bomber Fly Line

Designed to cast large flies on long leaders great distances. Moderately aggressive front taper turns over bulky flies. Long rear taper maintains loop stability when bombing long casts. Superflo coating and superslim running line allows the Bomber to shoot like a dream. Low stretch Power Core for solid hook sets.

| | | | |
| --- | --- | --- | --- |
| Sizes: WF8, WF9 | #3318 | $89.95 | |

Airflo Superflo Power Taper

Ideal for throwing big flies. Quickly loads at short range. Large tip diameter turns over big flies. Longer rear taper provides multiple pick up points. Haul zone extends the usable head length. Ultra-thin running line shoots well and takes up less spool space.

| | | | |
| --- | --- | --- | --- |
| Sizes: WF7 - WF9 | #3323 | $99.95 | |
Airflo Superflo 40+ Extreme


The Superflo 40+ Extreme has a 36' head and an overall length of 123', it's perfect for the stillwater angler looking for distance. These also make excellent single hand/switch casting lines.


| | | | |
| --- | --- | --- | --- |
| Sizes: WF7 - WF9 | #3321 | $89.95 | |

Airflo Cold Saltwater

Airflo's Striper lines are the ultimate line for fishing the chilly salt. Featuring Power Core technology, these lines have zero memory and the uncanny ability to set hooks at long range, helping you catch more fish.



| | | | |
| --- | --- | --- | --- |
| Sizes: WF7 - WF10 | #3330 | $89.95 | |

Airflo Forge
Sink 3

Forge has become a popular choice for many anglers, a quality fly line at an entry level price point. With its easy loading front taper and stretchy core, Forge fly lines are very forgiving and help casters of all abilities.

Full sinking at 3 ips.


Airflo 40+

The 40+ is a flyline that anyone can cast, and cast far. With it's easy loading 35' head and low diameter running line, you'll soon be reaching for the horizon. Enhanced with Airflo's super-popular Ridge Running Line, an addition that makes the line cast even further than you ever imagined possible. The Airflo 40+ line also comes standard with Airflo's Power Core technology, and you'll need it to help set the hook at the increased distance you'll be fishing! Doubles as an excellent switch casting line in confined spaces.

Airflo Super-Dri Xceed

The SuperDri technology has been developed for the serious floating line angler, featuring a friction reducing coating which lets the line glide through the rod rod rings and adds yards to your cast. The SuperDri's coating gives you unparalleled floatation with the ability to repel water, dirt and surface scum better than any material in the history of fly lines.

The SuperDri Xceed has been designed to load today's faster action fly rods. This slightly heavier weight forward head has a condensed taper optimized for casting into the wind and generating higher line speeds. This is the best floating line whether your fishing dries or subsurface.


Airflo Velocity

The Velocity Weight forward floating is a great all around floating line for beginners and advanced anglers alike. The Velocity has a useful loading zone indicator on the rear taper that allows you to easily visualize when you have the optimum amount of line outside the tip ring. With its user friendly taper design, the long rear taper allows the line to grow with you as you improve and increase your casting range.

| | | | |
| --- | --- | --- | --- |
| Sizes: WF5 - WF9 | #3325 | $39.95 | |
Airflo Rage Compact

Working with Tom Larimer, Airflo has developed the Rage Compact which casts like the Skagit Compact, but fishes as a straight floater. This new addition to the Skagit family keeps you in the "Floating" game under extremely windy and tight quarter casting situations. Its aggressive front taper gives ultimate power for driving casts into the strongest winds, the rear taper helps load quickly, giving you incredible control in tight casting conditions. The front loop has the line size printed on it for easy recognition.

| | |
| --- | --- |
| Sizes: | 420 grains (for #5/6) |
| | 450 grains (for #6/7) |
| | 480 grains (for #7/8) |
| | 510 grains (for #7/8) |
| | 540 grains (for #8/9) |
| | 570 grains (for #9/10) |

Airflo Skagit Driver

The Skagit Driver sits slightly lower in the water helping to better load the rod when making a cast. What's more, its unique density slows down the swing, which keeps you in the game longer. Armed with Power Core technology and printed welded loops in varying colors for easy identification.

| | |
| --- | --- |
| Sizes: | 450 grains (for #6/7) |
| | 480 grains (for #7/8) |
| | 510 grains (for #8) |
| | 540 grains (for #8/9) |
| | 570 grains (for #9/10) |

Airflo Superflo Ridge Running Line

Ridge 2.0 technology significantly improves line speed & shootability on Airflo's new running line range, whilst reducing tangles associated with any low diameter running lines.


| | | | |
| --- | --- | --- | --- |
| 30 lb. (0.40") | #3349 | $54.95 | |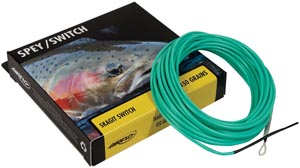 Airflo Skagit Switch
Designed to load fast action switch rods in tight casting situation, move 10' to 12' of sink tip, and reach out to hit the 'zone'. Looped at both ends for ease of use, the front loop has the line size clearly marked for easy identification. The mint green color keeps the line visible and controllable at any distance. Couple this with either a 20lb or 30lb Ridged Running line and you have the pinnacle in switchmatch for your favourite rod. So, just add a sink tip and your good to go. The Skagit Switch line has rapidly gained a 'cult' following with single hand rod Spey casters.

| | |
| --- | --- |
| Sizes: | 420 grains (for #5/6) |
| | | | |
| --- | --- | --- | --- |
| | Last Updated: June 10, 2023 at 3:12:39 PM | W. W. Doak (506) 365-7828 | All prices are listed in US Dollars |